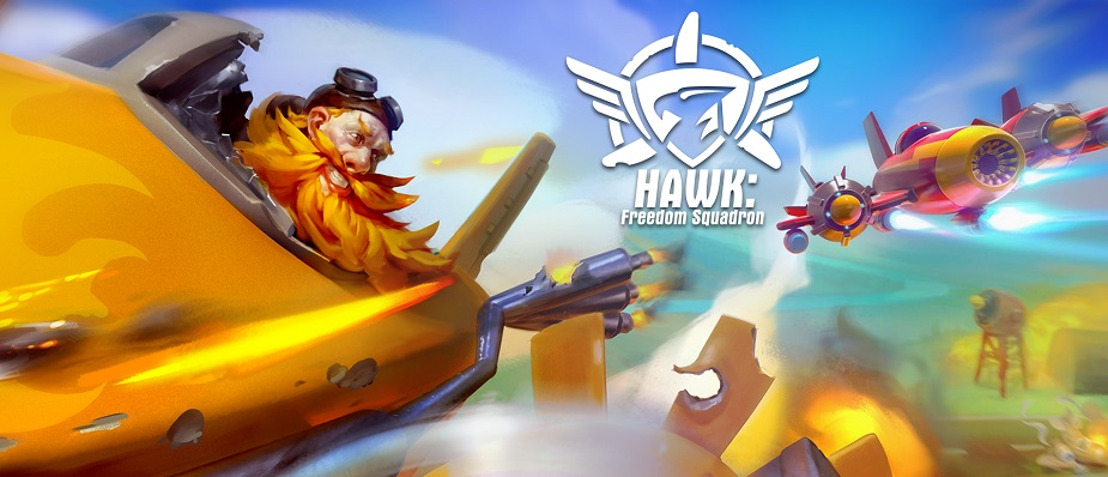 HAWK: FREEDOM SQUADRON LAUNCHES EXPANSIVE UPDATE
My.com's co-operative vertical scrolling shooter amassed over 1 million players on iOS and Android devices.
Wednesday, June 7, 2017 — Global publisher and developer My.com is proud to announce the first worldwide update is available for its new explosive vertical shoot 'em up - HAWK: Freedom Squadron. The game tasks smartphone users and their wingmen to team up, strategize and excel through waves of old-school bullet hell excitement. The co-operative gameplay mode is strengthened by abilities for saving progress when players switch devices. Over 200,000 co-op games are played daily with cross platform allowing players to go on frantic aerial adventures together, even if they play from different operating systems!
Together, players will protect the gorgeous country of Verdia against merciless invaders in a campaign spanning more than 100 missions. Players can casually join the endless arcade mode or go head to head against hardcore bosses that fill up multiple screens! The brand-new game Trials mode expands the games offering with various challenges and great rewards. Trials tests all pilots in a completely different way; with races at an enormous speed, sharp steering and puzzling through complex mazes and even saving cows, who accidently got into the battlefield.
Key Features:
Co-op and single player campaigns. Dozens of missions unveil a story about saving a peaceful country from vicious enemies and destroying an entire air fleet. The campaign includes tons of flying contraptions to shoot out of the sky, gigantic bosses and loads of adrenaline. Co-op adds an extra layer of excitement by allowing you to tackle it with a wingman by your side.
Arcade mode is for those who crave a lifetime spend in the sky. One infinite map, thousands of enemies with all kinds of aircraft, easy-to-master and fun gameplay. But be wary: the difficulty level rises with each second you fly here providing a fantastic mode for competitive players who want to see their name atop of the ratings list. Only the best pilots will make it to the top gun rank!
Collect and upgrade aircrafts and fighter jets. Only the best pilots realize they must invest in their trusty jets to make sure it reflects their playstyles. A large variety of jets is available that can all be tweaked with powerful upgrades to achieve aerial dominance.